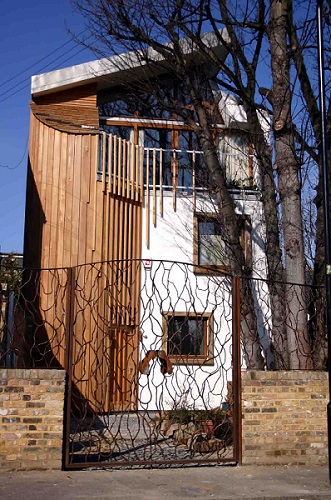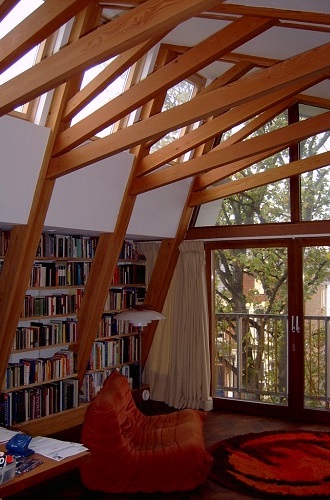 A contemporary design for a rare example of a new house plot in London - and the UK's first net-carbon-neutral detached house (as proven by six years of monitoring). Our Client Will Anderson published a book about this house, 'Diary of an Eco-builder'.
A mature tree with a preservation order constrained the built area, but was treated as an opportunity rather than a problem; the scheme was
designed not only to avoid damage to the tree, but to respond to it visually, to allow enjoyment of its presence and to integrate house and
tree into a whole.
The ground floor living areas open up to the rear garden whilst the top-floor study opens up to the tree. The study opens up into a generous
volume with north lights and branch-like roof trusses.
Inspiration came from Alvar Aalto and Thomas Cubitt (the original architect of Clapham Park). Throughout the building are squares and golden sections, and the balcony balustrade posts are arranged in a Fibonacci sequence.
Rendered walls root the scheme into the man-made environment whilst timber features and cladding root it into the natural elements.
The roof is covered almost completely with solar voltaic and solar thermal panels. This is part of the strategy to achieve 'zero carbon' performance, i.e. independence from fossil fuels. To achieve this, the house was built to stringent standards. This includes highly
insulated walls, floor and roofs and high performance windows, airtightness and mechanical ventilation with heat recovery.
Construction was completed in 2007, under a contract negotiated with a single contractor.

Will sold the Tree House and we assisted him in building The Orchard on the adjoining plot.