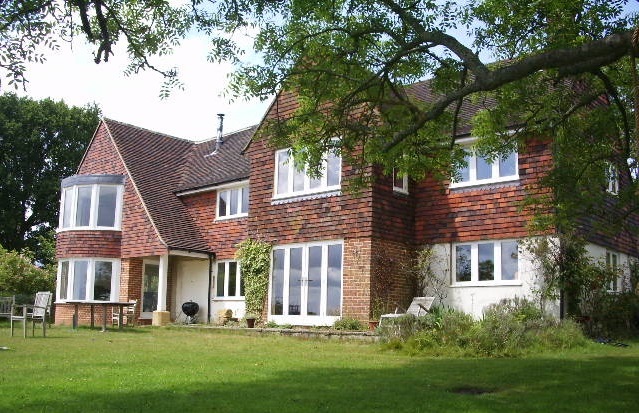 Down House stands on land that falls gently to the south and enjoys a spectacular broad vista of the country to the south, with the South Downs as a skyline.
It had grown from a small cottage of the Regency era to a large house following numerous campaigns of enlargement, its major extension and partial rebuilding dating from the 1990s. Although sympathetic in detailing and materials, these works had enlarged the house to the detriment of its quality, resulting in a large house with the character of an overgrown small one. The west end in particular was an ad-hoc collection of additions. The layout was inconvenient, with some awkward shaped rooms and cramped circulation. Furthermore the alterations had failed to capitalise on the glorious setting, particularly for the Kitchen / Dining area, which was tucked away to the north, unable to enjoy the southerly views.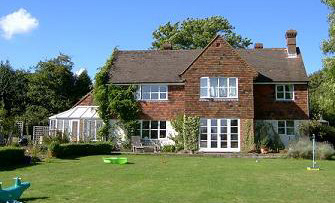 We set out to:

Give the appearance of the house a style and coherence appropriate to its size, by removing the conservatory and jumble of additions from the west end, and setting up a balanced asymmetry between the existing gabled bay on the south side and a new one containing a semicircular bay window. The new bay also follows precisely the sweeping cat-slide roof of the existing east elevation.

Maximise enjoyment of the spectacular views by provision of a segmental bay.

Improve the internal layout and provide improved circulation and spaces more appropriate to a house of this size, i.e. more convenient for a large family and more amenable to entertaining.

Link the Kitchen / Dining area to the garden on the south side, so as to allow supervision of children and enhance access to, and enjoyment of, the garden.

Ease the exposed nature of the south front by providing a transitional space providing both shade and shelter.

Use materials to match the existing where appropriate (the tile hanging, roof tiling, and small areas of render) or improve on them (such as the new brickwork).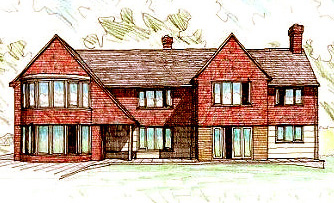 The design is influenced by the Arts & Crafts style and particularly the work of CFA Voysey, who created large houses of enduring domesticity and appropriateness to the English countryside based on the vernacular.

Planning permission was granted in October 2009 and construction completed in December 2010.

The interior was renovated completely, with new bathrooms, cabinetry and staircase.